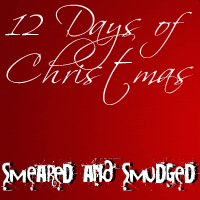 We'd like to invite YOU to join in this year and participate in our 12 Days of Christmas Smeared and Smudged style event. We're offering up a cool prize at the end, and know that you'll have a blast! How can you do this, you ask? Be one of our MERRY HOPPERS!
12 Days of Christmas Merry Hopper
What You Have To Do:
Hop through each of the 12 Days Blogs that are participating and leave a comment on each project.
We'll be posting projects every other day, starting with tomorrow, December 1st!
The Rules:
You must leave a comment on EACH participating blog every day to qualify for the prize drawing. Your comment should be about the project or something related (ie-no "Here's my comment for today" or "I'm here!"...these types of comments won't count!) If you miss a day or a blog, you will still qualify to receive a survival button, but will not qualify for the prize drawing.
Prize Drawing
At the end of the 12 days, we will be drawing for a fabulous free stamp set from Smeared Ink, along with some other goodies!
Each person who successfully completes the 12 Days as either a Jolly Blogger or a Merry Hopper will receive one entry toward the prize drawing. If you successfully complete both, you will receive two entries. (Meaning if you are a Jolly Blogger and you comment on every blog every day, you have successfully completed both).
Here is our list of Jolly Bloogers - We START TOMORROW SO BE SURE TO COME BACK!!
Terra
Tori
Kapree
Lisa
Alex
Jane
Black Dragon
Kelli
Sugar
Paula
Dianne
Alison
Steph
Lady Brayton